If you've ever walked into a museum, a high-rise condominium, or an architecturally pleasing office complex, it's almost like the design features are taken for granted unless they jump out at you. However, when interiors are designed with style, and grace in mind, those surfaces need protection. We're happy to have Delform Metal Fabrication as one of our qualified customers using Permalac on their projects.
Such is the case of one of the projects we're proud to say fall into all three categories. Park Avenue South Lobby in New York City is such a building foyer. As pictured below, the interior diffuser panels are made of brass and steel, as well as acrylic. The metal panels are protected from patina change, air quality erosion, even fingerprints.
Image Credit: Clodagh Design  |  Click an image to open image presentation
The Exterior is Equally Important
Just because New Yorkers with discriminating taste decorate their lobbies extensively doesn't mean that interior is all Permalac is suitable for.
Seen below is the Park Avenue Penthouse Parapet project as performed by Delform Metal Fabrication. Note the bronze parapet surrounding metal sculptures in this rooftop setting. The parapet walls are protected by Permalac and can withstand anything the New York weather can throw at it. From heavy wind and rain to mountainous snow, protection of this custom metalwork is ensured.
Image Credit: Delform Metal Fabrication  |  Click on an image to open image presentation
More Interior So to Speak
Custom furnishings made from intricate leather, wood and metal details speak highly of the design elements of this office sitting area. As you can assume by now, the work was performed by none other than New York Metal Fabrication firm Delform.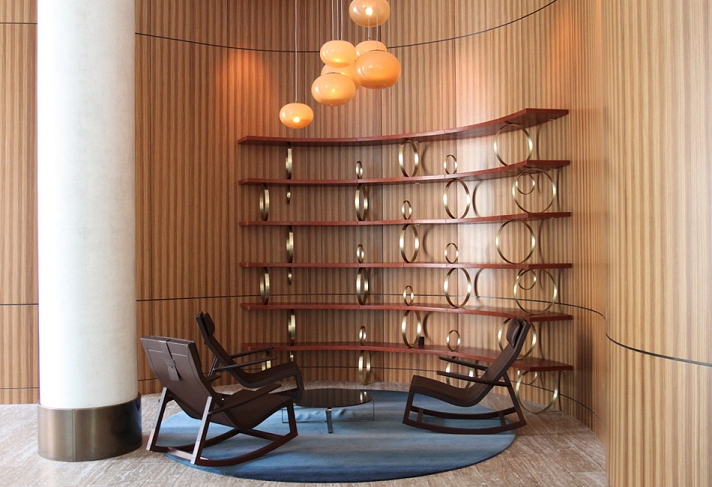 Image Credit: Delform Metal Fabricators
Regardless of the project, if it contains metal, wood, ceramic or other hard surfaces that you wish to protect, there is nothing better than Permalac.
If you would like to get more information on how Permalac can enhance your next project, whether architectural, interior design, or hobby, feel free to reach out to us by filling out a contact form here.
Ask A Question
Our support team are experts and would love to help you. Just complete this form.