Most Permalac formulations are available in different finishes, and in a wide variety of sizes. If you want a size not offered here, please contact us.
Permalac Original Formula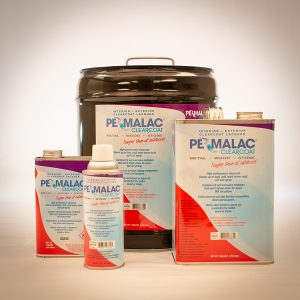 Permalac, unlike most other clear coatings, can be applied to most surfaces directly without the use of a primer. That is why we call it a Direct to Substrate (DTS) coating. You can apply Permalac to most metal, wood, or stone surfaces whether the surfaces are bare or painted on. On bare surfaces, Permalac behaves as both a sealer (in case you decide to paint over it), or as a top coat protecting it from UV, salt air, and other environmental corrosives. On metals, Permalac is also flexible. This means that Permalac stays with the metal and does not separate when the metal is bent. This is an important property for automotive and sheet metal applications. Permalac is a fast dry lacquer, formulated to provide tough, durable outdoor protection on any metal substrate. Permalac's state-of-the-art UV and corrosion inhibitors, as well as wide-ranging temperature stabilizers, assures endurance in harshest conditions ranging from arctic freezing, to desert heat, to beachfront salt air to acid rain. Permalac also provides absolute protection for circuit breakers and other electrical components from molds and mildew. They simply won't form on any surface that's been coated with Permalac. As a result short-circuiting and other disruptive difficulties can be avoided.
In comparison testing on steel surfaces, Permalac outperformed all well-known exterior lacquers. A brass fitting protected by PERMALAC subjected to a blowtorch for 10 seconds will not discolor. Once Permalac protection has been applied, users can count on six to ten years of service or more before re-coating is required.
Permalac can be sprayed or brushed on. It air dries to the touch in less than 5 minutes and dries hard to a virtually indestructible finish in less than an hour. When retreatment is indicated, Permalac can be easily and completely removed by wiping the surface down with acetone. Permalac is available in either matte or satin finishes, in a variety of different sizes.
Coverage is 400 square feet per gallon.
Permalac EF & Permalac NT Formulas (Low and Ultra-Low VOC)
Permalac EF: Like the Original formula, Permalac EF is also a DTS coating. Permalac EF has only 170 grams of VOC/liter which is less than the 250 g/l mandated by California law. In laboratory and field testing, Permalac EF performs just as well as standard Permalac, without the strong odor! Permalac EF complies with most government regulations for interior use lacquer products. This makes it the ideal treatment for inside window and door frames and the decorative metal in commercial building lobbies and elevators. Permalac EF is available in either matte or satin finishes.
Coverage is 400 square feet per gallon.
Permalac NT: With under 70 g/l, Permalac NT is the next level of low VOC performance. This coating exhibits excellent durability combined with low order. Permalac NT provides excellent performance on steel, aluminum, brass, and bronze. Permalac NT is suitable for indoor and outdoor application and will pass LEED certification specs.
Permalac 2K is a high gloss, two-part urethane product designed for severe duty applications, such as fountain art which is ceaselessly pounded by water jets. Permalac 2K can be tinted with our tinting additives and that it is a coating component of the Peacock Laboratories PChrome spray chrome system. It must be used 1:1 respective to both of its components, Permalac 2KA and Permalac 2KB.
Coverage is 350 square feet to the gallon.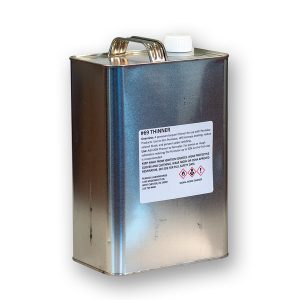 Permalac Thinners are specially formulated for use with Permalac products (clearcoats and tinted). They are recommended for use when spraying Permalac through spray guns. They can also be used for preparation of the substrate, prior to applying Permalac, and cleanup after the product has been applied.
Permalac Blackener (Transparent-Tinted)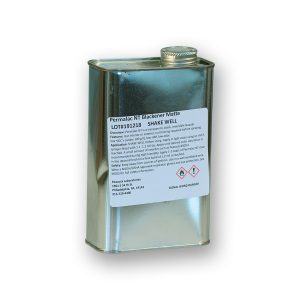 Permalac Blackener is our original formula Permalac Lacquer with a transparent black tint added. This allows you to seal and blacken your metal in one step, no patina chemicals required. Use it to easily and quickly create a blackened steel or anodized look. One quart will cover approximately 100 square feet with a single coat.
Permalac Colors (Opaque & Transparent Varieties)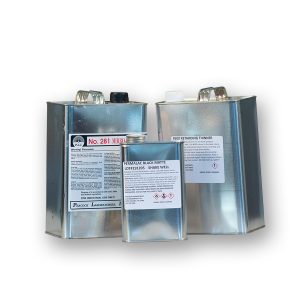 Permalac Colors consists of highly-tinted Permalac products. Permalac Original Black, Original Copper, and NT Copper offer total opacity for full substrate cover with a single coating. On the other hand, Permalac NT Bronze, Brass, and Christmas Gold offer beautiful transparent finishes, lightly coating your substrate to allow for the underlining texture, whether on wood, metal, or stone, to still be revealed.
Available in Original and Low-VOC Formulations.
The finish created with Permalac Colors cannot be achieved with conventional paints. If you are looking for premium finishes without the "plasticky" look, Permalac is your best choice!
Coverage is 400 square feet per gallon.
Permalac Tints (For Custom Tinting)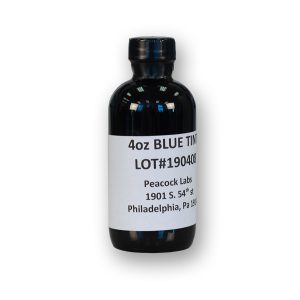 Permalac, Permalac EF, Permalac NT, and Permalac 2K can also be tinted with our line of translucent tints. These tints come in seven colors: gold, copper, yellow, red, black, violet, and blue. These tints are color-fast and will not fade and can be mixed to make a custom patina.
Permalac Tints are available in small and large volumes. Dilute and use according to need.
Permalac Matting Compounds (To Subdue Sheen)
Peacock Matting Compounds are substances used to dull down the sheen of pre-formulated lacquers. These compounds are compatible with all Permalac products. Compounds available in powder and paste forms.
"The product was infallible. Permalac not only acts as a fungicide that resists mold, it positively repels it. Mold simply can't and won't grow on it."
Aside from protecting the carefully finished metal surface, Permalac has the advantage of being invisible. Unlike other lacquers it doesn't give architectural coatings a plastic coated appearance and sheen.
"Permalac is extremely easy to use, cures in about 2 hours, and can be sprayed vertically or horizontally without drip formation. Permalac just melts into itself, but even if a texture did develop, we just spray a little more Permalac and we obtain that smooth-as-glass finish our customers require."