From Our Community: Marine Protection – 
A Permalac Case Study
We love to hear from the many users of our products! Some share their passion with restoration projects, others tell us about how they are using Permalac to protect the investment being made in large, commercial projects. The stories we receive are varied and always interesting.
Permalac clear coat exterior lacquer has been welcomed aboard a number of challenging marine applications. The ability of this long lasting, super hard, long-lasting exterior finish coating to withstand the elements at sea — UV, salt spray, wind borne abrasives, etc. makes it a natural. Moreover, users experience consistently confirms PERMALAC's reliability in all manner of extreme weather conditions.
PermanOre Architectural Finishes, Inc., a Milford, NJ company specializing in metallic architectural finishes for a variety of substrates, uses Permalac to protect the restoration marine hardware it finishes. Recently the company completed a contract to finish new port lights to exactly match the port lights on a 1941 Burger Flat Deck Cruiser.
The boat was originally built as a pleasure craft, however shortly after completion it was recquisioned by the U.S. Navy. At the time, civilian craft were the only boats afloat not being attacked and sunk by German submarines. After the war the navy offered to make any improvements the original owner wanted, so he asked them to make the 65' craft 75'. And they did!
Recently the boat was purchased and a complete restoration ordered. The owner wanted to double the number of circular port lights (windows) but he wanted the new lights to match the original 1941 lights. To achieve this, new lights were cast in bronze and then sprayed with a coating that compounded 95% powdered aluminum with a special hybrid polymer resin solution binder and catalyst. Once laid down this PermanOre coating functions the same way as real metal. It can be sanded, sandblasted, polished, ground, machined, or engraved in the same manner as the actual metal.
The final step was spraying the finished lights with Permalac. Aside from protecting the carefully finished metal surface, Permalac has the advantage of being invisible. Unlike other lacquers it doesn't give architectural coatings a plastic coated appearance and sheen. In addition to the lights, PermanOre (www.permanore.com) also prepared and applied brass coatings for all exterior metal work from the windshield wipers to the anchor. These also were final coated with Permalac.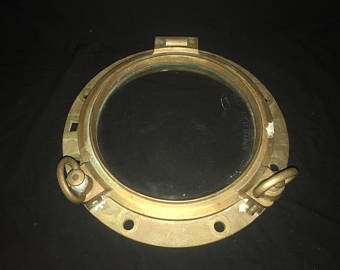 DO YOU USE PERMALAC PROTECTIVE CLEAR COATINGS?
Share Your Project and You Might Win!
Send us your before and after photos (or a video) along with an overview of the project and how Permalac protective clear coatings helped. With each submission, you will be entered to win a $25 Visa Gift Card in our monthly drawings. Use the form below, tell us a little information, add your images, and click submit. We'll announce the winner in our monthly email newsletter (we'll add you to the subscriber list. No worries; you can opt out at any time, but why would you? It' full of great information and special offers, and we'd never divulge your information)
The fine print: One winner will be awarded each month, based on our panel of judges' appreciation of the project results. You may submit more than one project, per month. Visa Gift Card will be delivered by mail.